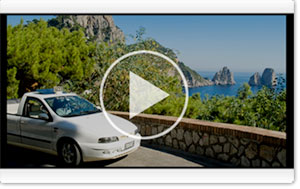 La Piazzetta, the main square and center of Capri, is famous for its clock tower and the terrace that offers a splendid panorama from the blue sea to Monte Solaro, the island's highest point. All around the Piazzetta square there is the feeling of a magic atmosphere, walking by the ancient streets, popular bars, shops and boutiques.
Starting from the Piazzetta, in 10 minutes we can reach by taxi the Bay of Marina Piccola, the island's south side; here are beautiful villas with gardens and a lot of typical fishermen houses near the sea, offering an enchanting landscape on Faraglioni and the opportunity to relax among the various beaches of the small creek.


Along a wonderful scenic route we can reach the top of the island, "Anacapri" town, known for its historical center, natural beauty and craft shops, and especially for the magnificent Blue Grotto. This natural cave is famous because once the Emperor Tiberius liked to swim in her beautiful sapphire-blue waters, and today it continues to fascinate millions of tourists attracted by the effect created by the play of sunlight reflected from its underwater cliffs.
From the road to the Blue Grotto, after a panoramic path, there is "Villa Damecuta", one of the twelve imperial villas of Tiberius, which today consist of only ruins and the famous Watchtower. Reaching the center of Anacapri, another interesting route is the one that leads to Monte Solaro by chairlift. The top of the Mount, a terrace surrounded by nature, gives us pleasant minutes of relaxation and spectacular views of Capri, the Gulf of Naples, Salerno and Ischia.
Starting from Anacapri we can arrive to the extreme southwestern tip of the island, where is the lighthouse of Punta Carena, one of the largest in the Tyrrhenian Sea and second for power after the Genoa's one.